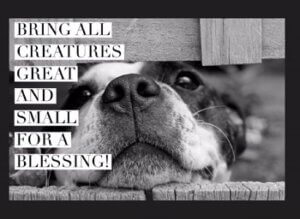 Bring your beloved pets for a blessing! We will meet on the beautiful grounds of Grace Church to celebrate God's gift of our pets. All are welcome!
Social distancing will be observed and masks are required.
All pets must be on-leash or in a crate and under the control of owners at all times.
Grace Church DOK will collect pet supplies for the Calhoun County Humane Society in conjunction with the Pet Blessing on October 4. Click the tab below for the supply wish  If you would prefer to give a cash donation toward the purchase of needed supplies, simply make your check payable to Grace Church for Pet Supplies. We will have 2 decorated collection boxes, 1 located in the church office and the other in the Narthex. If you would like to bring your donation with you Sunday for the Pet Blessing the box will be available. 
Thanks so much!
Donna Houston for DOK