Welcome to our Rector Search page. Here you will find regular updates as we seek a new Rector. If you have any questions about the Rector Search process, please share them with the Senior Warden or Junior Warden. Their contact information is listed in the church directory.
Prayer for our Parish and Rector Search
Almighty and everliving God, ruler of all things in heaven and earth, hear our prayers for the Grace Church parish family. Strengthen the faithful, arouse the careless, and restore the penitent. Grant us all things necessary for our common life, and bring us all to be of one heart and mind within your holy Church; through Jesus Christ our Lord. Amen. 
 
Almighty God, giver of every good gift: Look graciously on your Church, and so guide the minds of those who shall choose a rector for Grace Church, that we may receive a faithful pastor, who will care for your people and equip us for our ministries; through Jesus Christ our Lord. Amen.

From The Book of Common Prayer ~ Page 817-818
Our Rector Search Process Timeline Overview: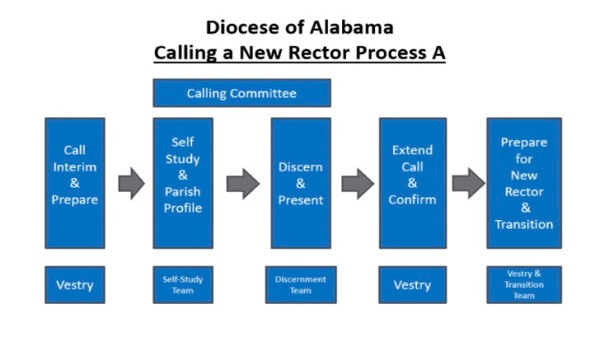 Click the link to read Part time Interim Rector Announcement - July 10, 2019
Click the link below to read an update from the Parish Profile Committee - May 6, 2019
Take the Parish Survey Now!
Search Committees - Posted January 31, 2019
October 29, 2018 - The Rev. Dr. Lee F. Shafer Resignation Letter
Click the link to read the Next Steps Update in our Rector Search - June 17, 2019
Click the link below to read an update from Lisa Davis, Parish Survey - April 12, 2019
Click the link below to read an update from the Parish Profile Committee - February 24, 2019
Annual Parish Meeting letter (January 30, 2019) from Pam Fite, Senior Warden
Click the link below to read the Grace Church Parish Profile - May 20, 2019
Click on the link below to read an update from Perry Reynolds, Search Committee Chairperson - April 11, 2019
Parish Profile Committee - February 4, 2019
Rector Search Update from Pam Fite, Senior Warden - December 4, 2018
Click the link below to read an update from the Rector Search Committee - May 13, 2019
Click the link below to read an update from the Parish Profile Committee - March 18, 2019
A Letter from Perry Reynolds, Search Committee Chairperson Posted January 31, 2019
Farewell Reception and Purse Letter for The Rev. Dr. Lee F. Shafer
October 28, 2018 - Grace Church Vestry Minutes
Attending: The Rev. Dr. Lee Shafer, The Rev. Dr. David Whetstone, Pam Fite, Connie Freeman, Jon Garlick, Bea Holman, Don King, Randy Laney, Perry Reynolds, Jimmy Striplin, Lauren Waltz, and Jane Wood.

Abesent: Mike Phebus, Lucy Whatley

The meeing was called together by The Rev. Dr. Lee Shafer at 9:30 A.M. with prayer.

Rector's Report: The Rev. Dr. Lee Shafer announced that she received a call as Priest to Calvary Episcopal Church in Louisville, K.Y. and her last Sunday will be November 25.

The meeting was adjourned at 9:30 A.M.

Respectfully submitted,
Jane Wood, Vestry Clerk