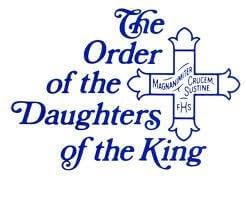 Vision Statement of The Order of the Daughters of the King:
Empowered by the Holy Spirit, our vision as Daughters of the King is to know Jesus Christ, to make Him known to others and to become reflections of God's love throughout the world.
If you would like to know more about DOK, please talk with Fr. Wally.
A rule of life is a self-imposed spiritual discipline practiced daily by an individual. It includes regular and seasonal devotions, both private and public, and is a commitment intelligently and prayerfully considered. A rule of life sets apart an order from other church organizations.
 
Members of The Order of the Daughters of the King® undertake a Rule of Life, incorporating the Rule of Prayer and the Rule of Service. By reaffirmation of the promises made at Baptism and Confirmation, a Daughter pledges herself to a life-long program of Prayer, Service, and Evangelism, dedicated to the spread of Christ's Kingdom and the strengthening of the spiritual life of her parish. 
 
Each member's personal Rule of Life reflects her unique spiritual journey. A Daughter's Rule of Life is not taken lightly, but is developed prayerfully with God's guidance. The Rule is not meant to be fixed, but flexible, and should be begun simply and reviewed regularly to accommodate her changing life circumstances and spiritual growth.
 
Most Daughters find that the discipline of a Rule of Life fosters a deeper relationship with Christ. The commitment made through our vows often serves as a catalyst that draws us closer to the heart of God – transforming our lives and leading us into more dedicated prayer and service for the sake of the One whose cross we wear.
At The Service of Admission, a new Daughter receives the cross of the Order as a mark of her membership. It is a modified Greek Fleury cross, inscribed in Latin, "Magnanimiter Crucem Sustine," meaning "With heart, mind and spirit uphold and bear the cross." At the base of the cross are the letters "FHS", initials that stand for the Motto of the Order: "For His Sake."
For more information on our cross please click on The Cross of the Order.
O Eternal Father, you have sent your Son to teach us things pertaining to your heavenly kingdom.

Give your blessing to our Order, wherever it may be throughout the world.  Grant that we, your Daughters, ever may discern your truth and bar the cross through the battles of our earthly life.

Give us strength to overcome temptation and the grace to work to spread your kingdom and to gather your scattered sheep within your fold.

Pour out upon us the sevenfold gift of the Holy Spirit that we may always remember it is your work we are called upon to do, that all we think, do or say may be pleasing in your sight.

We ask it all for His sake, our King and Savior, Jesus Christ.  Amen.